Aries Profile
The Sun in Aries Profile
When first looking at the overall Aries Profile we explore the position of the Sun Sign.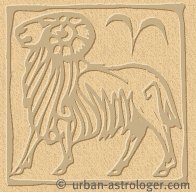 Horoscope Charts for Aries
The Sun in Aries occurs each year from March 21 to April 21 (approximately). The first sign of the zodiac - Aries, the Ram - represents the beginning of the Zodiac Circle.
Personalities represented by the Aries Profile love a challenge and will often plunge into any endeavor with a great deal of energy and enthusiasm.
These individuals often work best on short-range projects when there is a deadline to meet. Often they thrive under pressure and do their best work under these conditions.
Individuals with the Sun in Aries often resent authority as they prefer to do their own thing. They generally do whatever they think is best and often do not listen to other people's opinions.
The Sun in Aries personality likes to be first and best at whatever they do. Their desire for authority and tendency to be very assertive can sometimes be over the top. Sometimes others may perceive this as aggressive behavior.
Essential to Learn Diplomacy
It is essential for these people to learn to take the edge off their approach and season their words and actions with diplomacy and consideration for others.
The Arian personality is an adventurous, freedom loving individual who finds restriction difficult. They are usually charming and fun company as they will try almost anything for the experience.
These individuals are at their best when given their required freedom. This is evident in both the work environment and in personal relationships.
A number of people with belonging to the group tend to be eye-minded and possess a good sense of form, line and proportion.
And They Do Love A Challenge
Aries Astrological Symbol. In every horoscope birth chart the planets are distributed among the signs of the zodiac in a pattern that is unique to the individual.
Aries Astrological Symbol
The Ram
Each planet represents a very special kind of energy in your personal birth chart. The Sun is only one of those ten planets.
The sign that contains the Sun provides the basic key to the personality and life potential.
Here are some really quick and fun ways to use Astrology. Visit our Zodiac Elements page to get an understanding of how to easily connect with other people just by knowing the element of both your signs.
Also,don't miss getting the inside scoop from our Zodiac Signs page to help you really get to know those around you and yourself ...just that much better.