Relocation Astrology
Your Destiny Points
Finding Your Place In the World
Understanding Locality Astrology
Relocation Astrology - Where in the world should you be? Using the various unique astrological offerings available here, can provide a fresh new perspective on how you interact with your world. The techniques associated with this branch of Astrology are used to examine which parts of the world, which cities and which directions may be most suitable to you.
The birth time and date is generally used to indicate potential personality traits. That is the essence of astrology. However, it may also be used, to serve as a guide from a global perspective when working with the different areas of someone's life.
Throughout your lifetime you may travel widely, migrate and perhaps settle in a foreign country. You may also feel drawn to a particular place, while feeling an unpleasant dislike for another. You may tend to experience an element of luck in one place and encounter difficulties in another.
Astrology, by using this method called Locality Astrology, Relocation Astrology and Astro*Carto*Graphy, has developed a way to understand these occurrences. Although it would be considered impractical for many people to move to a variety of places, they may be influenced by connections with these places.
Individuals may be influenced when matters arise concerning business dealings, relationships with people, or vacations which do not involve an actual move but do involve a different location.
You Do Have Power Points Throughout the World
What does this mean for you when deciding where to live?
Do you have Prosperity Points throughout the world and where would they be?
What about career? Looking to move to enhance your career? Where might that be?
Where should you vacation to get the most out of the destination and the time you have?
Where to retire? Are you moving to a different destination or spending more time at destination? One thing's for sure... you want to make the right choice?
Relocation ...making that big move. How will you benefit from knowing your Power Points throughout the world? And we don't stop there... what section of the city is the best for you?
Where To Vacation, Where To Live, Where To Retire
An interesting technique in this method of astro-mapping astrology is called Astro*Carto*Graphy. It is a system that was developed with the use of computers by superimposing an individual's personal planetary data on a map of the world.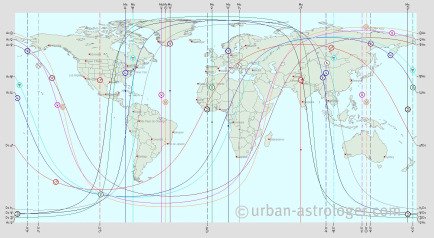 Locality Astrology - Your Destiny Points Throughout The World
This type of map reveals geographic locations that gives information by placing the planets from an individual's birth chart on certain angles. When this is constructed on a map of the world, the planetary angle will connect up to form a line which will extend itself around the world.
Life-changing events may be indicated if several planetary points occur at the same latitude. This is considered to be a very influential element for an individual and may only be detected by the use of Astro*Carto*Graphy maps. With that said - if you have a specific location that you want assessed then you can have the AstroCartoGraphy techniques applied to that specific location. You can find out more about an individual AstroCartoGraphy report here.
The use of the above methods will produce the same configuration of planets when the date and time of birth is used. However, different areas of life and the circumstances connected with them will change if different locations are used in calculations.
It is difficult to think of a more practical use for astrology than to move to or become affiliated with places and people that will affect ares of our life that are important to us.
This method of discovering your planetary lines around the world is very interesting when it is placed on a map for you to see how it works. It would be similar to pointing to any planet at the time of your birth and asking what cities are in line with it.
Relocation Astrology
And Other Common Related Terms In Astrology
The most popular astro-Map Report we have is our Astro*Carto*Graphy Report.