Understanding Geographic Astrology
Finding The Best Locations To Enrich Your Life
Geographic astrology is one of the most fascinating areas of astrology. It is about looking at the global world to identify your personal power places. Those places in the world that resonate specifically with you.
Here is a visual that I have created to help give a better understanding.
Make sure to join us on our Facebook page.
See our new Facebook Comments section below.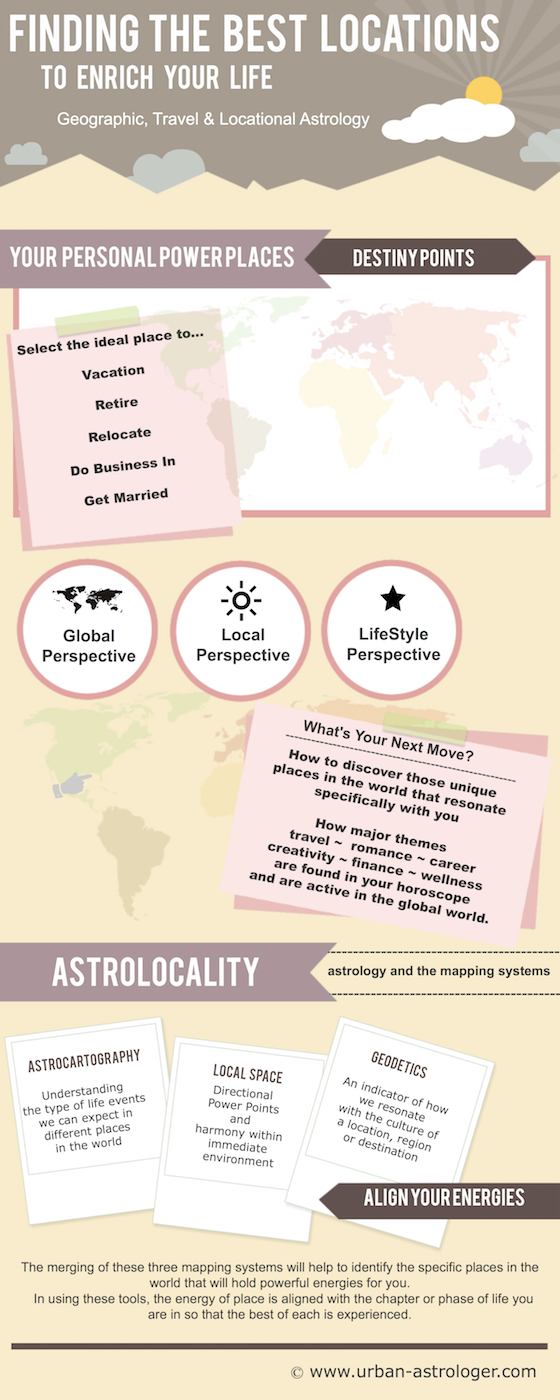 Finding the Best Locations
To Enrich Your Life
3 Elements of Geographic Astrology
Geographic astrology - is also known as locality astrology, relocation astrology or astrolocality and is the favorite part of my work. It is the fusion of a few relocation techniques that creates a powerhouse of geographic information for you. If this is an area that interests you- it is best to know what specifically you are planning to do.
Different themes or areas of life will come alive for you in different ways. If you focus is on where to vacation, retire, relocate or do business there are places that come resonate with you based on your personal astrological horoscope. They are specific to you.
Different things come into play when looking at your global perspective and then moving it down to a more local perspective for life planning.
AstroCartoGraphy
We never lose our natal birth horoscope chart. That moment in time and the place you were born provides a snapshot of the placement of the planets in the sky.
However, as we move around the world there are shifts in energies and potentials and in turn it filters how those impact our lives. So whether it is about the best places to vacation, retire, relocate or do business in, it is important to look at AstroCartoGraphy and the four major angles in our horoscope chart (Ascendant, Descendant, Midheaven and IC).
As an astrologer, when I do this type ofo work for you it is important to know what your focus is. Pinpointing on the global map - is based on the desired outcomes. For example - looking for a place to retire is going to have a different set of characteristics than looking for a place to build a career. Your interest will be in the results of the process and interpretation and you are not required to have any astrological knowledge beforehand.
Local Space
Local Space uses a horizon system of coordinates and are based on your personal coordinates on the Earth's surface and is considered to have an affinity with the Compass School of Feng Shui. The Sun, Moon and planets are placed relative to their direction on earth and are drawn around a 360 degree circle, like a compass.
Geodetic
Geodetic astrology is about how an individual feels or resonates within a given location and culture.
Like Urban-Astrologer.com?