Best Places For You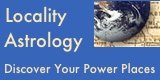 Discover Your Power Places
[
?
] Subscribe To This Site
Astrological Profiles For You
Astro-Talk Report
Your Astrological Life Portrait. This is one of the of the most advanced and comprehensive astrological interpretations.

Heaven Knows What
An intimate journey of self-discovery. If you don't know your birth time this is the choice for you.
Sky Within
A journey through the astrological aspects of your spirit being. Written in a gentle, personal style for you.

To see our full range of options go to our
Astro-Profles page.
What's In Your Future
Solar Return
What magic does your upcoming year hold for you. Don't let a birthday pass by without looking at your personal astrological Solar Return. Considered a sacred moment and a special time to set the stage for your journey through the next twelve months.

Lunar Return
Voted most useful, most informative and most fun! A guide of your personal "moon forecast" for the month to come.

Sky Log
An exceptional forecasting tool. Gives you the big picutre of what is happening in your year to come and then brings it down to the details.

To see our full range of options go to our
Astro-Profiles page.
Heart-To-Heart Consultation
Want a heart-to-heart personal consultation.
Find out more here
about our Astrology Horoscopes - Personal Consultations page.