Solar Return
Your Personal Birthday Horoscope
Every year you get a birthday present you may not know about. It's called your Solar Return. It is a powerful chart cast for the exact time the Sun returns to its natal position in your birth horoscope.
A Quick Understanding of Your Solar Return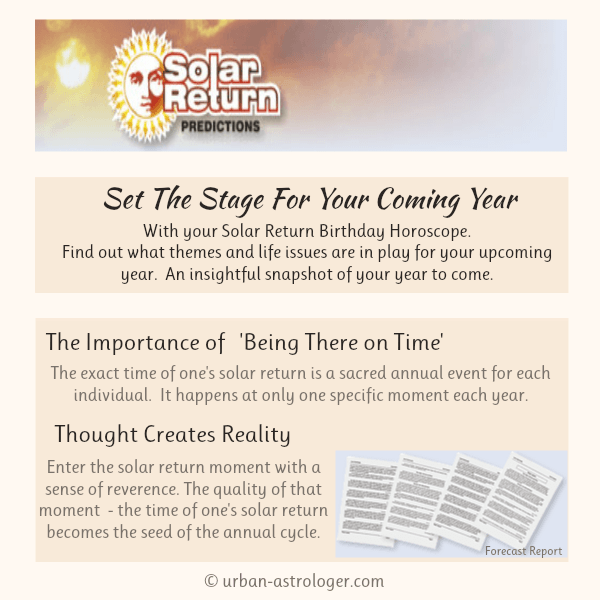 Click here to fill out birth data and order your Solar Return Report now.
More About Your Solar Return Report Here
This Personal Birthday Horoscope is an insightful snapshot of your year to come, including major timing factors to take into account when you're planning the year ahead. It's your personal birthday power chart!
This one specific moment each year is uniquely yours and is considered a sacred annual event for you. It is at this moment when the Earth/Sun relationship is exactly as it was at the moment you were born.
At this magical moment a new one-year cycle begins for you and you start anew. Take advantage of this opportunity and set the stage for the events and happenings and make the most of your upcoming yearly cycle.
Set The Stage For Your Upcoming Year
This Solar Return written report includes the details on how to use this as a tool to set the stage for your upcoming year according to the stars. It provides information on:
How and why this is important; setting the tone for your year to come
How to best use it; including traveling to supercharge your powerful year - the perfect excuse for a birthday vacation someplace new
A complete planetary overview of the year by sign, house, and aspect
The annual interaction of this with your natal horoscope birth chart - what's important and what's not
As A forecasting tool; including daily descriptions of the transits and progressions that propel your year's activities and events, inside and out
A snapshot of the year to come...
This is something you willl want to keep near you, because it's always got something to say, all the way through the year. You will find it's one of the best birthday presents you ever gave yourself!
This also makes a very personal birthday gift for that other special someone, too!
Ordering
Current
'Special Pricing'
for your custom package is
$19.95
CAD. Don't let a birthday pass without looking at your personal astrological Solar Return. This exact time of one's solar return is considered a sacred annual event and is a personal guide for you to the influences and trends for your upcoming year.
These are comprehensive, detailed reports hand processed personally by me. They are custom interpretations and are created specifically for you.
What information is required?
Your natal horoscope chart is constructed using your date, location and time of birth to calculate (the time can be approximate if you don't know). Below is a questionnaire to ensure you have everything before ordering.
If you have any questions please don't hesitate to contact me. There is always a link at the bottom of every page to contact me. Your package will include my direct email address.
To create your Solar Return Report - First I need your birth data
Frequently Asked Questions
Do I need to know my precise birth time?
The date and location of birth must be accurate. It is best to have the time as close as possible. If you have no idea then it is best to use noon on your date of birth for your time.
How long does it take to receive it?
Your package will be delivered via email. I promise delivery within 24 hours however it usually takes less than that. These reports are processed and checked by me.

Take me back to the questionnaire please!