Best Destination Weddings
& Wedding Astrology
Best Destination Weddings and Wedding Astrology is all about finding your personal magical place. Where to tie the knot and where to honeymoon according to the stars.
Using a specialized form of astrology known as locality astrology or astro-mapping - the best destination wedding location(s) can be indicated for you.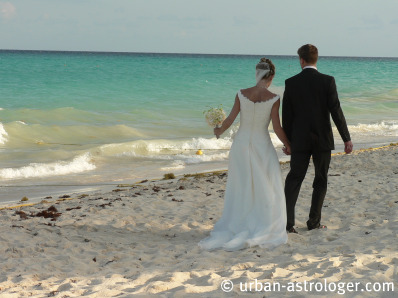 Destination Wedding Astrology
By looking at a personal birth chart - in this case both individual's that are coming together in marriage - astrology looks at the destiny points from a love and romance perspective and how they are reflected in the astrological birth charts.
One of the focal points is of course the planet Venus as it rules love and romance in the birth chart.
Your Personal Magical Place
Here is a sample of what is used to establish the location for your best destination weddings - places throughout the world for you.The birth data is used for the bride and groom and the use of this map is the beginning of the process to discover the most magical places for the wedding and honeymoon throughout the world.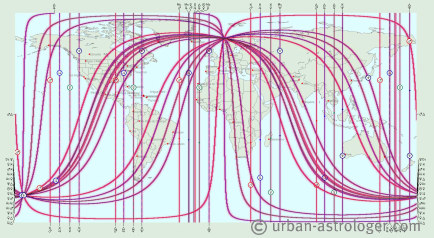 Destination Weddings
This is used in conjunction with the personal horoscope chart of each person in the relationship.
I have given some examples below to give a sense of how it might work for you. If you are not looking at a wedding afar - then another area of locality astrology would be used.
It is known as local space and it shows the power points that run from your current location.
Knowing the best time and the most perfect location just adds to making your day as enchanting as it can possibly be. It can also be revisited for vow renewals and those very special times in your lives. It will always be your very own magical spot. Why not begin your life together at this personal magical point and revisit it in the years to come.
A Story Of Jan & Bob
A Best Destination Weddings Story
Here is a story of Jan and Bob. They were just engaged and were deciding whether to have a destination wedding. They wanted something unique and different. Jan came in for both a Bridal Consultation and Wedding Package Consultation. First her personal consultation was based on her natal birth chart and with her exciting wedding on the horizon - that was of course a primary focus for her upcoming year forecast. In addition to this we did astro-mapping for her to look at where in the world would be the best location for their wedding. We narrowed it down to few options and then fine tuned from there.
You can see an example above of how your personal planets flow through the world. These are often considered destiny points. In the above example the theme is on love and romance. For Jan and Bob - they were hoping to go to a spot that was warm and tropical and we found the spot that would work perfectly for them.From that point we looked at the actual wedding day and surrounding times and the planetary movements to help Jan make the best of her wedding planner at destination and know exactly what she wanted. It was all about making it the most perfect day for them.
Want to know more about our destination wedding packages?
A Story Of Julie & Zach
A Local Wedding
Julie and Zach wanted to have a wedding closer to home. They were looking at having it in Calgary or Banff - close to where they live. They were excited to get started and wanted to have a relationship consultation in the beginning to set the stage for their successful life together and use the consultation to launch their wedding plans.
In addition to their consultations we did look at their locality map as well. They wanted to know the most romantic place for them to go on their honeymoon after the wedding. We looked at a number of locations that would work for them and then narrowed it down to a River Cruise in France. Then we looked at bringing in some of the unique things that resonated with this magical spot for them on their locality map. For their local wedding we talked about pulling in some things related to this unique destination and planning their wedding with this as an underlying theme. French wines, french decor and Julie even decided on a hairstyle based on their magical spot. She said it just added to the excitement knowing that the very next step on their journey was France.
In addition we looked at a another type of astro-mapping in astrology called local space astrology. We used this to help Julie and Zach decide on local decisions that had to be made for their wedding location.
Want to know more about our destination wedding packages?
Love To Hear Your Thoughts
Have A Great Story About A Destination Wedding?
Do you have a great story about this? Share it!