Sky Log
A Tool To Take Control Of Your Future
Sky Log - You can look at your life ahead as a coming set of possible events, each one following the other – the kind of thing a calendar does for you.
A Quick Understanding of Sky Log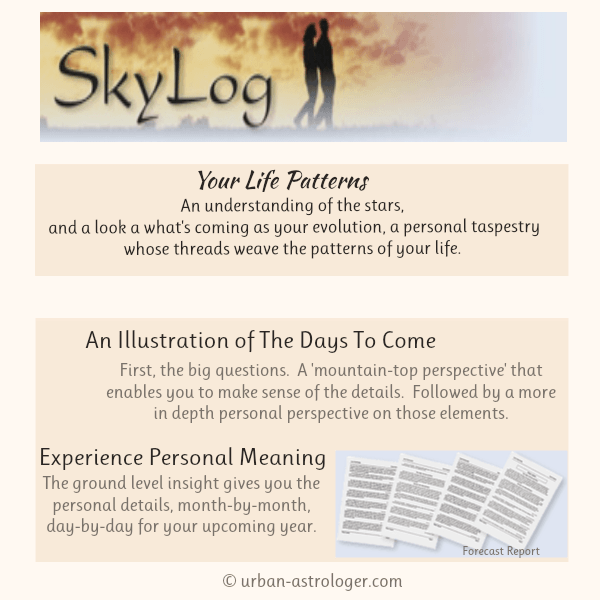 Click here to fill out birth data and order your Sky Log Report now.
More About Your Sky Log Report Here
Or, you can look at what's coming as an evolution, a personal tapestry whose threads weave the patterns of your life. This enveloping report is definitely the tapestry, not the calendar.
This will provide personal meaning out of the sometimes confusing events that surround us all.
Throughout Sky Log, you will walk through three levels of your developing existence, described as:
"First, the big questions. In the part of the report called THE INVITATION, we try to get that "mountain-top" perspective that enables us to make sense of the details. In THE MEANS, we turn our attention to some secondary factors that offer suggestions, help, and support in responding to those big questions. And finally, we'll look at the report period month-by-month, day-by-day, to get some ground-level insight into THE DETAILS."
If you look behind the text, what you're actually getting is not just three, but four different "scans" of your forecast period that integrate 19 different individual planetary and astrological factors which vary from day to day.
But what you actually experience in the reading is a smooth, engrossing story, full of wise anecdotes and tales that illustrate the days to come and make them fit into your personal expectations like a comfortable dressing gown – simple, warm, and entirely familiar.
When you know you can get this much understanding from the stars at the time you were born, you will want to have it in your life all the time.
Ordering
Current
'Special Pricing'
for your Sky Log custom package is
$19.95
CAD. This is a tool to take control of your future. Giving you the big picture of what is happening in your upcoming year and then brings it down to the details. Time Covered: 12 month period based on your requested start date (average length 50 pages).
These are comprehensive, detailed reports hand processed personally by me. They are custom interpretations and are created specifically for you.
What information is required?
Your natal horoscope chart is constructed using your date, location and time of birth to calculate (the time can be approximate if you don't know). Below is a questionnaire to ensure you have everything before ordering.
If you have any questions please don't hesitate to contact me. There is always a link at the bottom of every page to contact me. Your package will include my direct email address.
To create your Sky Log Report - First I need your birth data
Frequently Asked Questions
Do I need to know my precise birth time?
The date and location of birth must be accurate. It is best to have the time as close as possible. If you have no idea then it is best to use noon on your date of birth for your time.
How long does it take to receive it?
Your package will be delivered via email. I promise delivery within 24 hours however it usually takes less than that. These reports are processed and checked by me.

Take me back to the questionnaire please!