Heaven Knows What
A Blueprint To Your Personality
What if you could ask one of the astrology giants of the past to speak directly to you? What if one of the great masters was to come down from heaven just to give you a reading? This natal report is based on the work of one of the great masters of astrology, Grant Lewi.
A Quick Understanding of Heaven Knows What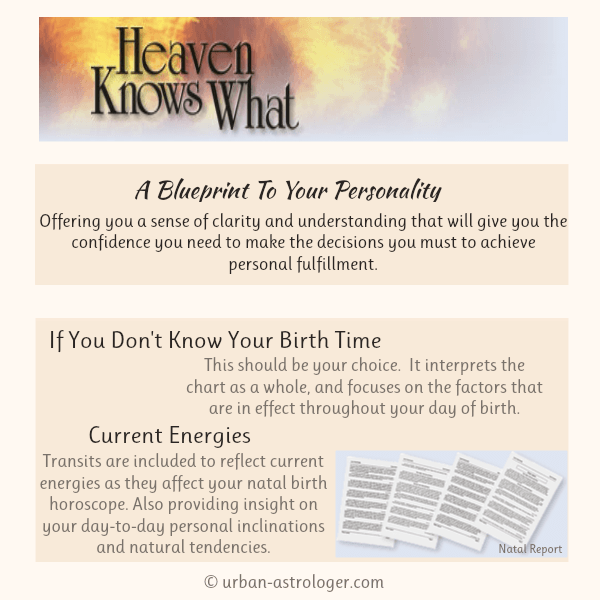 Click here to fill out birth data and order your Heaven Knows What Natal Report now.
More About Your Heaven Knows What Report Here
Heaven Knows What - A blueprint to your personality. This is a remarkable personal document, offering you a sense of clarity and understanding that will give you the confidence you need to make the decisions you must to achieve personal fulfillment.
If you don't know a birth time, this should be your choice. Transits are included to reflect current energies as they affect your natal birth horoscope and resulting personal inclinations and tendencies.
Ordering
Current
'Special Pricing'
for this remarkable personal document is
$15.95
CAD. A blueprint to your personality and ideal for anyone who does not know their birth time, because it interprets the chart as a whole, and focuses on the factors that are in effect throughout the day of birth. (average length 26 pages)
These are comprehensive, detailed reports hand processed personally by me. They are custom interpretations and are created specifically for you.
What information is required?
Your natal horoscope chart is constructed using your date, location and time of birth to calculate (the time can be approximate if you don't know). Below is a questionnaire to ensure you have everything before ordering.
If you have any questions please don't hesitate to contact me. There is always a link at the bottom of every page to contact me. Your package will include my direct email address.
To create your Heaven Knows What Natal Report - First I need your birth data
Frequently Asked Questions
Do I need to know my precise birth time?
The date and location of birth must be accurate. It is best to have the time as close as possible. If you have no idea then it is best to use noon on your date of birth for your time.
How long does it take to receive it?
Your package will be delivered via email. I promise delivery within 24 hours however it usually takes less than that. These reports are processed and checked by me.

Take me back to the questionnaire please!