Your Lunar Return
Your Personal Moon Forecast
Your Lunar Return - Every month the Moon above comes back to exactly where it was when you were born. The chart cast for this instant tells the tale of your next 27-and-a-half days to come.
A Quick Understanding of Your Lunar Return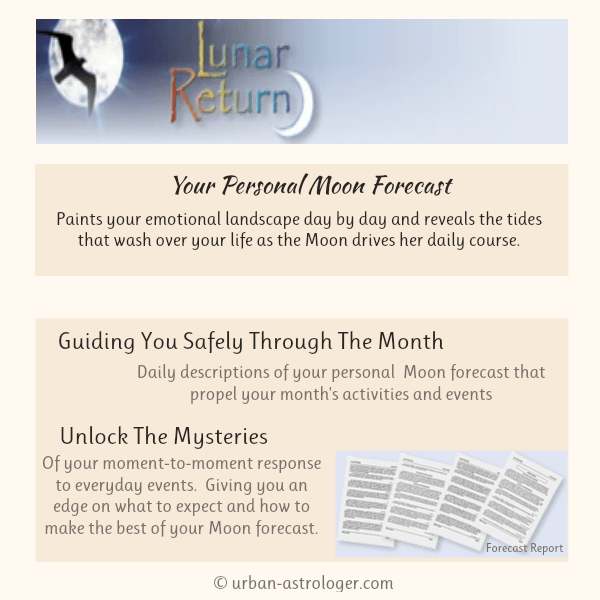 Click here to fill out birth data and order your Lunar Return Report now.
More About Your Moon Cycle Report Here
This profile paints your emotional landscape day by day and reveals the tides that wash over your life as the Moon drives her daily course.
In this report, you are give the keys to the heart and the pulse of each and every month.
Your Lunar Return
Guiding You Safely Through The Month
The monthly chart of the instant the Moon returns to the exact position it was in at the time of your birth
Kind of a monthly birthday and each month this re-birthday outlines its potential for you
Helps you explore the patterns of your upcoming month
Your moon cycle and its interaction with your birth horoscope -your astrology moon sign -just what really counts for you this month and what doesn't
Daily descriptions of the Moon forecast that propel your month's activities and events
Affirmative keywords will help give you insight into to the flavor of daily events
Each month changes and this will give you an edge on what to expect and how to make the best of your Moon forecast
Imagine what would happen if you had insight into your day-by-day emotional landscape. With your interest in astrology, getting your Moon Forecast here will open up a new world of personal interpretation.
This goes beyond your astrology birth chart, sun sign – it will unlock the mysteries of your moment-to-moment response to everyday events, your reflective and reactive side, your emotional take on the here and now.
Will next month come on like a juggernaut, sneak up like a cat, or stride in like a hero? With this , you'll be the first to know.
Ordering
Current
'Special Pricing'
for your Lunar Return custom Moon Forecast is
$9.95
CAD. This personalized profile provides you with an accurate "moon forecast" that will help guide you safely through the month.
These are comprehensive, detailed reports hand processed personally by me. They are custom interpretations and are created specifically for you.
What information is required?
Your natal horoscope chart is constructed using your date, location and time of birth to calculate (the time can be approximate if you don't know). Below is a questionnaire to ensure you have everything before ordering.
If you have any questions please don't hesitate to contact me. There is always a link at the bottom of every page to contact me. Your package will include my direct email address.
To create your Lunar Return Report - First I need your birth data
Frequently Asked Questions
Do I need to know my precise birth time?
The date and location of birth must be accurate. It is best to have the time as close as possible. If you have no idea then it is best to use noon on your date of birth for your time.
How long does it take to receive it?
Your package will be delivered via email. I promise delivery within 24 hours however it usually takes less than that. These reports are processed and checked by me.

Take me back to the questionnaire please!