Sagittarius Profile
The Sun in Sagittarius Profile
When first looking at the overall Sagittarius Profile, we must explore the position of the Sun in Sagittarius. The Sun in Sagittarius arrives each year form November 21 to December 21 (approximately).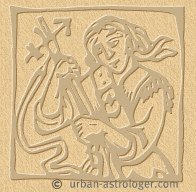 Horoscope Charts for Sagittarius
The ninth sign of the zodiac - Sagittarius, the archer - is referred to as being a dual sign. This means that both the desirable as well as the undesirable traits may be present in the same person.
The pictorial represent ions of Sagittarius have usually included the bow and arrow of the archer and the Centaur (half man, half horse), which indicates the duality of the sign.
This group is generally broadminded, independent and outspoken.
Quite often their undesirable traits go undetected because they are usually very pleasant and easy going.
These people are self-starters who possess an almost infectious enthusiasm. Their natural charm enables them to quickly persuade others to join them and work along with them on almost any project.
Go to Sagittarius horoscope charts.
Sagittarians Possess A Flair
For Learning Languages
Personalities represented by Sagittarius love the outdoors and traveling. Soft adventure is appealing to them. However, these individuals like to practice these hobbies in both comfort and style.
Individuals in this group often possess a flair and aptitude for learning languages. Generally they learn a language better by osmosis, on location, rather than out of a book. Experiential types of education and travel are very appealing to them.
Individuals with the Sagittarius Profile tend to be versatile, flexible and often need to have more than one task on hand at the same time. Generally, they are unconventional and restless which often makes it difficult for them to work at a nine-to-five job.
The Sagittarian is usually very eloquent, freedom-loving, charming and more often then not charismatic and irresistible to members of the opposite sex.
They often find it quite difficult to cope with any possessiveness or jealousy in their emotional relationships. This type of behavior is in direct conflict to their innate sense of freedom and independence.
The main characteristics of the Sun in Sagittarius individuals are optimism, independence and versatility. They can often be demanding of others but do not like others to be demanding of them.
Sagittarius Profile
Self Starters with an Almost Infectious Enthusiasm
In every horoscope birth chart the planets are distributed among the signs of the zodiac in a pattern that is unique to the individual.

Sagittarius Astrological Sign
The Archer
Each planet represents a very special kind of energy in your personal birth chart. The Sun is only one of those ten planets.
The sign that contains the Sun provides the basic key to the personality and life potential.
Here are some really quick and fun ways to use Astrology. Visit our Zodiac Elements page to get an understanding of how to easily connect with other people just by knowing the element of both your signs.
Also,don't miss getting the inside scoop from our Zodiac Signs page to help you really get to know those around you and yourself ...just that much better.