Astrology and Vision Board Software
Vision Board Software and Astrology are a powerful combination that can literally change your life. To help make those major changes in your life this tool can help you focus your intentions and activate the law of attraction.
This tool is a powerful system that enables you to visualize your dreams and keep you inspired to achieve your goals.
You can include your own dream images, empowering affirmations and chosen power words in your Vision Board, displaying the amazing future you intend to manifest.
The Possibilities
A great feature is the option to add your choice of music and you can record your own voice to accompany your Vision Board! Your self chosen affirmations also show up in a pop up balloon on your screen for extra exposure.
Some of the best things are the libraries of affirmations, power words and images that help to get your intentions in focus and it makes it so easy to create a personal Vision board.
The music options are fantastic and you can use the new movie recorder as well. Also, one of the things that I really like is the poster creation feature.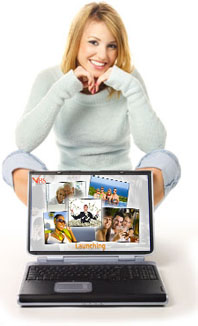 Vision Board Software
Your choices include being able to create a movie of your Vision Board and display it on websites, iPod, iPhone, digital photo frames, etc. By focusing on your Vision Board at least twice a day, you are applying The Law of Attraction in a most powerful way.
By constantly feeding your subconscious mind with positive affirmations and images of your dreams, feeling as if you have already achieved them, and taking inspired action you will attract your goals into your reality.
With Vision Board software, you can also set your vision board as your wallpaper, send it to a friend and print it out. Now you can even create a movie of your vision board for your mobile devices like your cell phone, iPod, PDA and digital photo frames. The possibilities are endless!
Vision Board is the most complete and powerful Vision Board software on the market! Take your life to the next level, follow your bliss to success and enjoy a happier and fulfilling life by creating your own powerful Vision Board. The power of the mind is amazing; make your dream life come true NOW!