Planet Venus
Love & Art
A Symbolic Ruler of the Heart
The Planet Venus rules Taurus and Libra and governs the second and seventh house. The second house represents the doorway to survival and the seventh house is the doorway to all close associations and partnerships including marriage.
Astrologically Venus represents love, loyalty, compassion and honesty and its counterpart hatred as well as the Arts which as we know depict both the beautiful and the ugly.
In Art as in Love - Venus governs the creative expression of our emotions.
Physiologically - Venus rules the venous system (veins).
The planet Venus represents the Emotional Energy in our horoscope chart.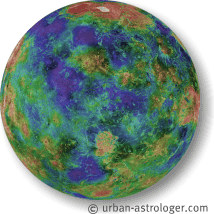 Planet Venus
Your Love & Values Forecast
The planet Venus is always close to the Sun, as it never travels more than 48 degrees away.
Venus either occupies the same sign in a birth chart as the Sun or falls within two signs to either side of it.
When it comes to locality astrology - also referred to as relocation astrology, the planet Venus has very specific influences. The various parts of the world that reflect your Venus destiny points can be looked at to understand that planet's emphasis on pleasure, enjoyment and particularly romance in your life.
How Does The Planet Venus Affect You
Astrologically, it represents specific emotional energy (love,hate, art). The major rulership of this planet is to do with all close partnerships and relationships, including marriage.
Venus is love, beauty, art, aesthetics, value, fairness, socializing, relationships.
The planet Venus astrologically represents the desire to bring together things that compliment each other. There is a strong need to create harmony and balance in the environment and in relationships
Through the energy of this planet we are aware of our need for companionship and friendship
Venus is the planet of love and compassion, everything we care about and also how we go about caring. Venus not only relates to romance, but also to our values. Here you can see how
Venus is configured in your natal chart
for the immediate future.
The Astrological Glyph for Venus

Venus Symbol
If you want to have a quick look at how this will show in your chart you can check out our free horoscopes page which will give you a taste of astrology and how this planet works in your chart.
If you want your customized in depth written computerized reports you can explore the different options available in our shop.
In addition, the position of this planet in your horoscope chart describes your urge to seek balance in relationships and the importance of socialization to you.
As Venus continually moves around the zodiac it passes over every area in your personal birth chart.As it touches different areas in your birth chart, it is a time to make the best of current relationships and if applicable explore new relationships. This may be in all areas of life - love, business, and family.
Our Most Popular Venus Resources