Lunar Gardening
Gardening By The Moon
Lunar Gardening. The branch of astrology which deals with gardening and agriculture is usually considered to be the oldest branch of astrology.
Even before the invention of zodiacs or calendars, it was possible to observe the effects of planting in relation to the Moon.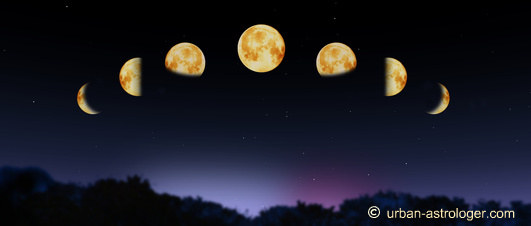 Gardening By The Moon
No one knows exactly why the use of the Moon's daily zodiac signs and phases in gardening and agriculture seems to produce better results.
Studies of the relation of lunar cycles to plant growth tend to suggest that the Moon phases have more effect than the Moon signs. However, all plants come under the general effect of the Moon whether it be by phase or by zodiac sign.
The most beneficial way to plant is to match the Moon phase to the appropriate daily zodiac sign. The following descriptions should help to make this task less confusing.
The Moon signs refer to the Moon's revolution around the Earth, which occurs in a little less than a calendar month. This revolution or circle divided into 12 sections known as the zodiac. Information regarding the Moon's daily zodiac signs is available on the calendar pages of most almanacs.
The Moon Changes Zodiac Signs
Every Two to Three Days
The Moon moves into a new zodiac sign approximately every two to three days. The Moon signs which are considered to be desirable for planting are: Cancer, Scorpio, Pisces, Taurus, Capricorn and Libra.
The Moon signs which are considered to be undesirable for planting are:Leo, Virgo, Aquarius, Gemini, Aries and Sagittarius.
The entire cycle from one New Moon to the next takes little less than one month to occur (approximately 291/2 days)
Traditional astrology suggest that plants should be sown around the New Moon or at the Full Moon for best results.
Conduct Your Own Lunar Gardening Experiment
A simple way to determine whether or not gardening by the moon will work for you is to conduct your own experiment.
If this type of project would interest you, simply go to our Moon Calendar to find the dates of the Full Moon and the New Moon and give it a try. If you would like to conduct a more involved experiment, the Moon's zodiac signs may also be used.
Two plants of the same type may be used in this experiment. Plant them next to each other but make sure that you plant them according to the above methods.
Plant one when the Moon is in a desirable zodiac sign and in the appropriate Moon phase. Plant the second one when the Moon is in an undesirable zodiac sign and in the wrong Moon phase.
Many people strongly believe that these methods have an influence on their gardening. See for yourself which of your own experiments will produce the best results.
Do You Want To Share Your Garden Experiences?
Do you have a story about your gardening by the moon experience? Share it!
Our Most Popular Moon Resources