Planet Mercury
It's What We Think About
Mercury Represents Our Mental Energy or Intelligence
The planet Mercury orbits closest to the Sun and is always found within 28 degrees of it.
In your birth horoscope chart, Mercury is found either in the same sign as the Sun, the next sign (ahead of the Sun) or in the previous sign.
It rules both Gemini and Virgo and governs the third house in your horoscope chart which represents all matters pertaining to communications and early education.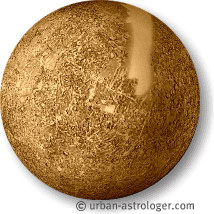 Your Personal Mercury Forecast
Your Communication & Connections
The planet Mercury represents mental energy or intelligence . It governs that part of the brain that we need for our day-to-day survival in our environment. In order to survive we must be able to perceive what is going on about us for which we need our senses of hearing, smell, sight, touching and tasting.
These are necessary to communicate with our environment which is necessary to survive. This all ties in with the third house of the horoscope chart which is ruled by Mercury.
When it comes to locality astrology - also referred to as relocation astrology, the planet Mercury has very specific influences. The various parts of the world that reflect your Mercury destiny points can be looked at to understand that planet's emphasis on intellectual and communicative activities in your life.
How Does the Planet Mercury Affect You
At the physiological level Mercury governs those parts of the brain and the nervous system which we need to learn and subsequently to execute activity related to the third house, especially our senses, reflexes, coordination and our ability to reason, to think and to solve problems.
This can be used for the betterment or detriment of those whose lives we impact.
So what does the planet Mercury mean in your chart? Where this planet is located in your chart - by sign and by house placement will give a idea on how the planet will color your perspective in intellectual matters and what are of life will get your mental attention.
Mercury is the planet of communication and connections and if you want to check out more about how it specifically affects you in your natal chart and what it is showing for the immediate future, this report will be a useful personal guide.
The Astrological Glyph for Mercury

Mercury Symbol
Mercury concerns communication and short-distance travel. Language, words, speech.
If you want to have a quick look at how this will show up in your horoscope chart you can check out our free horoscopes page which will give you a taste of astrology and how this planet works in your chart.
If you want your customized in depth written computerized reports you can explore the different options available and position yourself best in your future by understanding your personal astrological forecast.
Through the position of Mercury in your horoscope you can see the areas that will be of most interest to you and stimulate your mental energies.
As it continually moves around the zodiac it passes over every area in your personal birth chart. Each of these areas will provide food for thought as Mercury goes through and connects with other planets in your personal chart.
Our Most Popular Mercury Resources